Photo Album - Year 2008
Click picture for more information!
5.4.2008. Erasmus -students from Pirkanmaa University of Applied Sciences visited at SWR.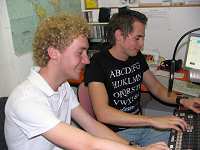 At the spring cleaning we cleaned up all kind a stuff from station surroundings.
Our janitor Pasi make barbeque goods for djs.
3.5.2008. Old TV gets it.Dj Miki at The Grill studio.
Midsummer fair at Virrat traditional village.
5.9.2008. EDXC Conference 2008/SDXL summer meeting begins lifting the flags (SDXL & Finnish) up.
DJ Madman with EDXC 2008 Radio studio at The Hotel Silveria, Vaasa.
During October broadcast dj Miki was geocaching.
At the broadcast we gathered what we got from last months broadcast.