Radiohäiriöt ja niiden vaimentaminen kotikonstein
Nykypäivän kodeista löytyy monenlaista laitetta, joka saattavat aiheuttaa häiriöitä radiotaajuuksille ja erityisesti HF (MW/SW) taajuuksille. Laitteet saattavat aiheuttaa radiotaajuuksille häiriöitä, vaikka laitteet sinällään täyttäisivätkin radiotaajuisille emissioille asetetut vaatimukset.
Mikäli taajuuksilla joita kuuntelet, esiintyy purinoita ja surinoita, jotka häiritsevät vastaanottoa, kannattaa ensimmäiseksi kokeilla ottaa lähistöllä olevien sähkölaitteiden töpseleitä pois seinästä. Häiriöitä saattaa nimittäin aiheuttaa lähes mikä tahansa sähkölaite. Mikäli omista sähkölaitteista ei löydy syytä häiriöille, tilanne menee pykälää hankalammaksi, häiriön lähde saattaa nimittäin olla esimerkiksi naapurissa. Tässä tilanteessa on hyvä, mikäli tuntee naapurinsa hyvin ja voi käydä tarkistamassa naapurinkin laitteet.
Muutama esimerkki häiriölähteistä ja miten häiriöitä voi pyrkiä kotikonstein vaimentamaan.
Tietokone:
Tosi säätäjähän ei koskaan ruuvaa tietokoneen ruuveja kiinni. Jos säätäjä harrastaa myös radion kuuntelua, on suositeltavaa ruuvata ruuvit kiinni, koska silloin radiotaajuiset häiriöt pysyvät paremmin metallikuorten sisäpuolella. Tietokoneen johtoihin kannattaa laittaa ns. clamp ferriittejä. Yleensä oikea paikka ferriitille on mahdollisimman lähellä tietokonetta. Jos mahdollista, kierrä johtoa useampi kierros ferriitin läpi, tällöin ferriitti suodattaa häiriöitä tehokkaammin [ kuva 1.].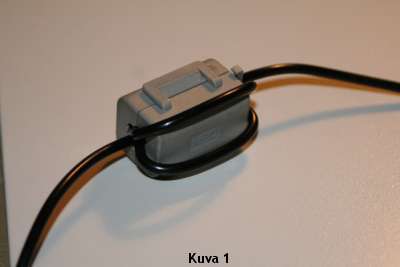 Sama asia pätee mm. ADSL modeemin johtoja. Modeemien mukana tuleekin yleensä clamp ferriittejä, mutta asentajat jättävät ne tietämättömyyttään asentamatta. On myös suositeltavaa, että tietokone on kytkettynä maadoitettuun pistorasiaan.
Kotiteatterin vahvistin:
Monet nykyaikaisista vahvistimista on toteutettu tekniikalla, joka mahdollistaa paremman hyötysuhteen vahvistimessa, mutta aiheuttaa radiohäiriöitä. Yksi häiriöitä aiheuttava vahvistinluokka on ns. D-luokan vahvistin. Huonosti toteutettuna tällainen vahvistin aiheuttaa häiriöitä HF:ltä aina satojen megahertsien taajuuksille. Vahvistimesta tulevia häiriöitä voi vaimentaa clamp ferriitillä, joka sijoitettaan mahdollisimman lähelle vahvistinta. Myös kaiutinjohtojen vaihtaminen suojattuun kaapeliin tai ns. kierrettyyn kaapeliin [kuva 2], vaimentaa johdoista säteileviä häiriöitä.
Televisio/video/DVD:
Kodin viihde-elektroniikka laitteet ovat varsin usein häiriöiden lähde. Otsikossa mainittujen laitteiden tapauksessa ainoa kotikonsti jolla häiriöitä voi pyrkiä vaimentamaan on clamp ferriitin asentaminen verkkojohtoon [ Kuva 3.]
MP3 soittimen/Matkapuhelimen/digikameran laturi:
Laturin tapauksessa ainoat toimivat tavat vaimentaa häiriöitä on laturin irrottaminen seinästä tai clamp ferriitin laittaminen laturista lähtevään johtoon. Yleensä oikea paikka ferriitille on lähellä laturia.
Edellä mainittuja häiriövaimennus keinoja voidaan soveltaa myös moniin muihin sähkölaitteisiin.
Muita mahdollisia häiriölähteitä:
- Valon himmentimet
- Loisteputkivalaisimet
- Vialliset termostaatit
- Ilmastointilaitteet
- Pesukoneet
- Kylmälaittteet
- Sähköpaimen
Muistathan että sähkölaitteen avaaminen on ammattilaisten työtä.
Radio interference and how to moderate them
Today's homes can be found in many kinds of equipment that may cause harmful interference to radio frequencies and, in particular HF (MW / SW) frequencies. Equipment may cause radio frequency interference, even if the equipment itself, fulfilled the criteria for the issue a radio frequency requirements.
If you listen to the frequencies that occur in those burgers and mourned for those who interfere with the reception, the first thing you try to take in the vicinity of electrical equipment electric plugs off the wall. Disturbances may in fact cause almost any electrical device. If you own electrical equipment can not be found to be susceptible to interference, the situation goes notches more difficult, the source of interference may in fact be a neighbor, for example. In this situation, it is good, if you know neighbor well and can go to check in a neighboring devices.
A few examples of sources of interference and how disturbances can try at home to absorb.
Computer:
Real-controller will never tighten the screws onto the computer. If the controller also enjoy listening to the radio, it is recommended to screw the screws, because the radio frequency interference better remain inside metallbox. Computer lines would be worthwhile for the so-called clamp ferrites. Generally, the place of ferrite is as close as your computer. If possible, turn the cable through the ferrite more than one round, then the interference ferrite filters more efficiently [Figure 1].
The same thing is true for example ADSL modem cables. Modems involved usually clamp ferrites, but the installers leave them in ignorance installed. It is also recommended that the computer is connected to a grounded outlet.
Home Theater Amplifier:
Many modern amplifiers have been carried out with technology that enables a better efficiency of the amplifier, but the cause of radio interference. One of the problems causing the amplifier is a class of so-called. Class-D amplifier. Poorly implemented, such an amplifier cause harmful interference to HF from each of hundreds of megahertz frequencies. An amplifier absorb future shocks can clamp ferrite, which is placed as close to the amplifier. Changing the speaker wire is also shielded cable, or the so-called twisted cable [Figure 2], mute wires radiated interference.
TV / VCR / DVD
Home entertainment electronics devices are quite often the source of interference. The title of the equipment case, the only thing to which disturbances in the home may be trying to absorb a ferrite clamp to install the cord [Figure 3]
MP3 player / mobile phone / digital camera charger:
Charger case, the only function suppresses the interference is remove the charger from the wall or clamp ferrite Putting departing from the charger cord. Generally, the right place of ferrite is close to the charger.
The above-mentioned interference suppression methods can be applied to many other electrical devices.
Other possible sources of interference:
- Light Dimmers
- Luminaires for fluorescent lamps
- Defective thermostats
- Air Conditioning Equipment
- Washing machines
- Refrigerators and freezers
- Electric Shepherd

Please keep in mind that the electrical device opening is professionals work.